Web Summit Rio 2023 was more than a success, it was a milestone for global technology and innovation. This grandiose event brought together more than 21,000 people at Riocentro, in the West Zone of Rio de Janeiro, between the 1st and 4th of May, creating an effervescent environment of knowledge and collaboration.
With more than 100 hours of lectures, masterclasses, panel discussions and networking sessions, the event provided an incredible platform for market professionals, entrepreneurs, influencers, investors and the general public to exchange ideas and connect.
The main theme was Artificial Intelligence
The theme of Artificial Intelligence (AI) was undoubtedly the central point of the Web Summit Rio 2023. Even when it was not the main theme of the lecture, AI emerged as a fundamental secondary element in the discussions. Issues related to security, accountability, trust and explainability in AI projects were in evidence, highlighting a growing trend for the coming years: companies are turning to robust governance and mature processes in defining, developing, training and deploying AI models. AI.
This trend reaffirms the direction that Hop AI has taken, prioritizing, firstly, the materialization of AI in organizations and, secondly, the implementation of strict governance for AI models. We understand that AI is not just an emerging technology, but also an ethical and strategic commitment.
One of the most engaging presentations on AI was given by Thomas Domke, CEO of GitHub. He demonstrated the power of GitHub CopilotX, a tool that employs AI to assist with programming, creating an app in just 18 minutes. This example reinforces the transformative potential of AI, not just as an auxiliary tool, but as a catalyst for innovation and efficiency.
Hop AI participation in the event
As CEO of Hop AI, I had the pleasure of participating in this inspiring event that exceeded all expectations. It was an unprecedented opportunity for Hop AI to strengthen its connection to the global innovation ecosystem, share experiences and knowledge, and explore new partnerships and business opportunities.
The most valuable aspect of this experience, without a doubt, was the networking. The meetings and connections generated during the event are already bearing fruit, driving the expansion and evolution of our company.
Networking WebSummit AI
Space for exhibition and networking at the event
It was extremely gratifying to see that Hop AI is at the forefront when it comes to generating tangible results with Artificial Intelligence (AI). Although AI was the central theme of the event, with numerous talks and related content, many companies, especially large ones in Brazil, still face considerable challenges in effectively incorporating AI into their operations.
Most of these companies have advanced on their data journey, but when it comes to AI, they are still in the experimental stage, with no practical applications in critical business processes. In this context, Hop AI emerges as a beacon, as we were founded to resolve precisely this issue.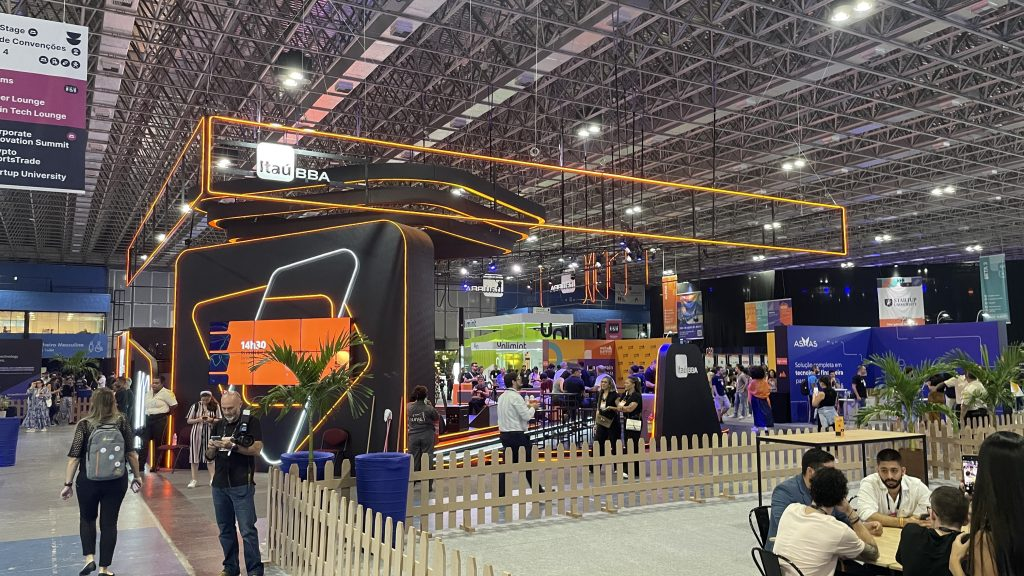 When he explained the purpose of Hop AI, the connection was immediate. Businesses understood that we can help them move beyond the slipstream of AI adoption and develop an efficient process for systematically deploying AI models, moving out of the lab and scaling across the organization.
Participating in Web Summit Rio 2023 was an incredibly rewarding experience and we look forward to being there again in 2024. Thanks to everyone who has followed us on this journey and supported us along the way.
Post event networking
The WebSummit Rio event ended on a high note. Before boarding my return flight, I enjoyed a happy hour at Orla21 with my friend Roberto Argento, Advisor at ScaleAgile, and Peter Kreslins, CTO and Co-Founder at Digibee. We talked about artificial intelligence, business and innovation, while enjoying the beautiful landscape of the wonderful city. From our vantage point, we could see Christ the Redeemer, Sugarloaf Mountain and the sea. It was a unique moment.