Google Bard was launched in a hurry. Do you know why? Artificial Intelligence (AI) is undeniably powerful for revolutionizing any sector, including Google, which has been AI-driven for 6 years. However, the success of OpenAI's ChatGPT has overshadowed years of investment in AI by Google and other big techs.
To not fall behind, Google took several measures, including emergency meetings with founders Larry Page and Sergey Brin to seek solutions against ChatGPT. This week, CEO Sundar Pichai published the article "An important step for our AI journey", where he reinforced the company's investments in recent years and highlighted the importance of AI in the market.
He also briefly introduced Google Bard, a competing solution to ChatGPT, built based on the LamDa model, as well as other AI technologies recently launched by Google, such as BERT, PaLM, and MusicML. Finally, Pichai made it clear that the company is seeking to deploy these new technologies in its products, starting with search.
The secret is never to lose market time (time-to-market)
And it seems like Google forgot that. Although it directed a large portion of investments towards Artificial Intelligence in recent years, it ended up announcing the launch of ChatGPT's competing solution, Google Bard, months after OpenAI's worldwide release for use.
This created a lot of pressure for Google and even losses. Shares of Alphabet, Google's parent company, plunged 8%, losing over $100 billion, after an imprecise response from Bard in a demonstration posted two days after the product's launch announcement.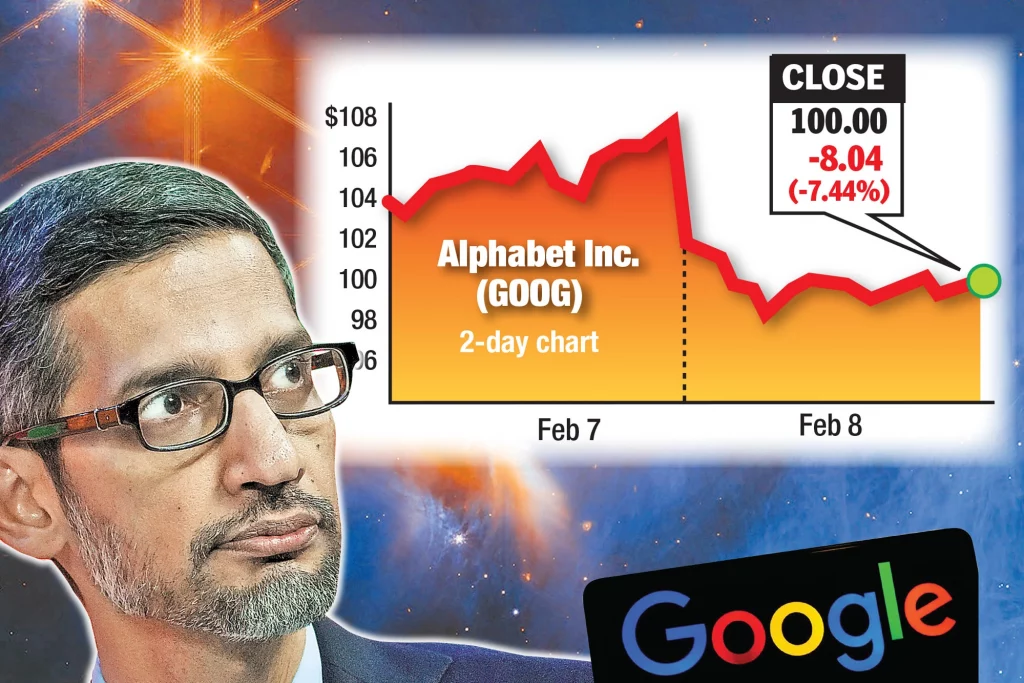 The problem with starting behind is that the effort to reach or surpass the competitor is greater. While Bard is being made available to only trusted testing users, the ChatGPT artificial intelligence is being used at scale worldwide, from a neighborhood mechanic to a high-level executive of an airline.
To further complicate Google's work, Microsoft announced a $10 billion investment and then announced the update of its internet browser and search engine, which now feature the power of embedded ChatGPT (Microsoft Edge and Bing). Will Bing grow in the internet search market? Anything is possible.
A quick analysis
On the one hand, the ChatGPT artificial intelligence is highly precise and efficient in answering questions, trained with an immense amount of data. On the other hand, Google Bard promises more creative and innovative answers based on Google's over two decades of experience in organizing information. A comparative analysis of the two solutions will be made when Bard is widely available.
How does this affect your company?
The market is undergoing a significant change with the introduction of solutions based on Generative AI and Large-Scale Language Models (LLMs), such as GPT and Google Bard. Now, Artificial Intelligence is a present reality and not just something of the future. In addition, several other companies are developing and launching AI solutions, and Hop AI is successfully implementing AI cases every year.
Likely, your competitor at this very moment has already started or is about to invest in artificial intelligence technologies; the whole market is moving. Will you fall behind?
Don't waste time! Hop AI is helping companies understand that AI is a concrete reality, not a futuristic technology. We are assisting these companies in using AI in critical operations, reducing costs, and generating new revenue, moving away from the idea that AI is just laboratory research. Follow Hop closely and stay updated on available technologies.
Count on Hop to have your AI in production in just a few months!
HOP AI – AI Now, AI Together!